Jindo Island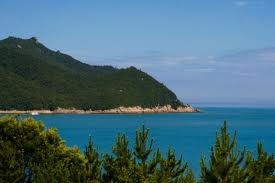 Jindo Island is South Korea's third biggest isle. The Jindo Island also called as Jin Island along with several tiny islands creates the Jindo County. It is situated in the province of South Jeolla, off the Korean peninsula's south west corner. The Myeongnyang Strait separates the isle from the mainland.

Some of the main attractions in the island
Seomang beach
The Jindo Island is a well known tourist destination. The place boasts of having a lot of beautiful beaches. You can visit the famous Seomang beach. It is an attractive beach. Here you can find only serene waves, pleasant views of the Soft Ocean, hospitable summer daylight, and floating tiny isles. You can stroll along this beautiful beach and unwind yourself; you can also go for pleasant swim and rejuvanate yourself.

Local festivals
The island is also known for the world renowned for the Jindo dog. You can witness the famous Jindo dog show, and other local festivals like Korean conventional circle dance festival (Ganggangsuwollae), customary farmer songs (Deul Norae), drum performance (Buknori), etc.

Art galleries
You can also visit the 3 art galleries, Namjin, Sojun, and Sochi, where you can find unique works of renowned painters.

Jindo Bridge
You can also have a glimpse of the famous Jindo Bridge. The Jindo Bridge is a twin bridge comprising of 2 cable stayed identically designed bridges. This bridge links the mainland with the Jindo Island.

Hotels near Jindo Island

Jeju KAL Hotel,
1691-9 Yido 1-dong, Jeju, Jeju-do, South Korea
82-64-724-2001

Related News
Comments
You must
login
to post comments.