Al Koot Fort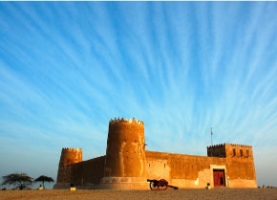 Set in the heart of Doha city, close to Souq Waqif, Al Koot Fort was built in 1880, originally on the outskirts of the old town of Doha. This attractive Moorish-style white building, with its three distinctive towers, lies at the very heart of the history of Qatar.
During the early 20th century, it was used as a prison, and a base from where the traditional armed guards, or nattoor, patrolled the lively souq area.
Its restoration in 1978 transformed it into an ethnographic museum, a storehouse of information on the traditional crafts of the nation with exhibits and artifacts of weavers, boat builders, gypsum carvers, basket makers, goldsmiths, blacksmiths, rope-makers, tailors and embroideres – visual reminders of times gone by.
However, some of the original features were lost during this project and today Al Koot Fort is being rebuilt to reflect its precise former glory. Although currently closed to the public, the building provides a popular photo opportunity.
The fort is located at the corner of Jasim Bin Mohammed and Al Qalaa Streets, adjacent to the Souq Waqif car park.
Related News
Comments
You must
login
to post comments.