Spiral Mosque - Islamic Centre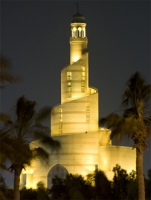 The spiral mosque of the Kassem Darwish Fakhroo Islamic Centre is a recent construction - It has become in a few years one of Doha's most famous landmarks. This is not a traditional Qatari mosque but a replica of the Great Mosque of Al-Mutawwakil in Samarra in Iraq.
It is located in Souqs area (Close to Souq Waqif) a stone throw from the Corniche Street. The spiral minaret dominating the old city is enlightened at night (See picture).
Opening Hours - Visit
Fanar Center is open from 7.30am to 10pm. However welcome desk is only open from 7.30am to 1.30pm and from 4pm to 10pm. Visits can be arranged at the Qatar Islamic Cultural Center (See information below).
Qatar Islamic Cultural Center - FANAR
The Qatar Mosque is a part of a large building - The Qatar Islamic Cultural Center aiming at explaining Islam to non Muslim foreigners. In addition to the mosque it also includes a department store and a cultural center with permanent exhibition detailing the basics of Islam. Guided visits - tours - of the mosque can be arranged there.
Contact
Address: Qatar Islamic Culture Center - FANAR
Telephone: +974 425 0250
Website:
www.ashtsolutions.info
Related News
Comments
You must
login
to post comments.