The Corniche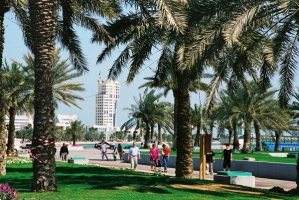 The Corniche Bay, Qatar is a 7-kilometre long stretch. The Qatar attraction runs along the coastline of Arabian Gulf. Corniche is a prefect place to walk, cycle and rollerblade along with viewing spectacular surroundings.
Corniche Bay, Qatar is a perfect place to go for an outing with your family. Many popular tourist attractions like Palm Tree Island, Qatar lie in close proximity. The island has several facilities for everyone to enjoy, tourists can take camel rides or they can indulge in amusement rides and water sports in Qatar.
The tourist spot also has several cafeteria and restaurants. The main food item you will get here is marine food.
Many parks are situated at Corniche Bay, Qatar the most popular park is the Al-Rumaila Park, Qatar where the greenery of the park soothes your eyes and also lessens the concentration of pollution.
Corniche Bay, Qatar has beautiful paved path, a walk on the bay is a must. This tourist site is perfect for family picnics as the area is fully landscaped. You can also take your family to a restaurant that serves your favorite cuisine and also suits your pocket. Many popular restaurants are situated at the Corniche Bay, Qatar so choose the one that suits your needs the most.
Parking is not a problem as Corniche Bay, Qatar has ample parking space. This attraction is frequently visited by locals as well as the tourists. Corniche Bay, QatarYour trip to Qatar will not be complete until you visit and appreciate the beauty of Corniche Bay, Qatar and its surroundings.
Related News
Comments
You must
login
to post comments.