The Kilim Karst Geoforest Park, LangKawi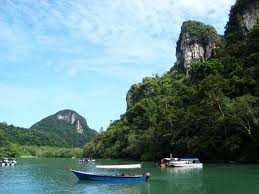 LangKawi, formally called as LangKawi, the Jewel of Kedah is a group of 104 isles spread in the Andaman Sea, and is at a distance of thirty kms from the Northwestern Malaysia's main shoreline.

LangKawi is a renowned tourist destination. A number of visitor throng Langkawi .annually because of its beautiful landscape. Some of the main attractions at LangKawi are the Machincang Cambrian Geoforest Park, Dayang Bunting Marble Geoforest Park and Kilim Karst Geoforest Park. These three areas form the main tourist attractions of LangKawi. UNESCO has awarded the world Geopark status to LangKawi Island.

Kilim Karst Geoforest Park (The Kilim River)
The region is comprised of 3 river estuaries that extend from roughly ten kms from the village of Kisap to Tanjung Rhu, both are interlinked. You will find this place boasts of affluent peculiar animal species. Some of the inhabitants you can encounter are the brown winged Kingfishers, hairy nosed sea otters, swimming macaque monkeys, monitor lizards, etc. You can also find beautiful porous caves formed by limestone, and mangrove forests.

The park has a mythological significance, in fact the name LangKawi is got from Brahminy kite bird, which is a main animal species found in this region.

On the northern side of the park, you can find the Gua Cerita (Cave of stories), which has several beliefs and myths related with it. It narrates the story of Garuda, the giant bird, epic battle that took place between Rawana and Rama, and the story of Sang Gedembai, a human resemble mammoth female creature, which has a cursing power and has the ability to any object into stone.

Accomodation near the Kilim Karst Geoforest Park, LangKawi

The Frangipani Langkawi Resort & Spa (previously Langkawi Village Resort)
P.O. Box 138. Jalan Teluk Baru, Pantai Tengah, Langkawi, Malaysia 07100
Ph.No: (604) 952 0000 ...

Related News
Comments
You must
login
to post comments.