Al Areen Wildlife Park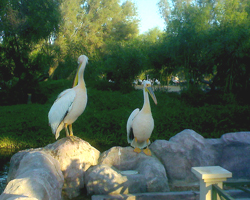 The Al Areen Wildlife Park has become an integral part of the development and can be seen from the majority of locations.
The park is perfect for families and animal lovers to explore at leisure and enjoy the opportunity of seeing animals in the wild.
The wildlife sanctuary was built to protect rare Arabian species including the Oryx, Adax and Reem Gazelle.
Today hundreds of other animals and bird species live contentedly in Al Areen Wildlife Park.
Contact Information:
Phone: 17836116
Fax: 17836020
Opening Hours:
Weekdays: 8:00am to 2:00pm
Fri: 1:30pm to 5:00pm
Admission Fee:
Adults: 1BD
Children: .500Files
Related News
Comments
You must
login
to post comments.