Lake Toba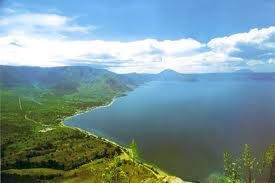 Lake Toba is the biggest volcanic lake on the universe. The lake offers you a moderate, pleasant climate and fantastic views. A unique aspect, which makes Lake Toba to differ from other lakes is, there is a tiny lake within the main lake. Bataks are the inhabitants, who live in the vicinity of Lake Toba. They can be easily identified by their vibrant decorations and their dwelling places have peculiar roofs, which on both ends, arch upward.

You can have a pleasant boat ride on Lake Toba. On the ride, you can admire breathtaking panoramic sceneries. You can watch the Surroundings Mountains engulfed by the white cloud, and the gentle breeze caressing your bodies. While on board the boat, you will be entertained by the native Batak singers singing the traditional Batak songs. The popular song, "sing sing so" is sure to entice you.

You can also relax your tired nerves by simply taking a stroll or cycle along the lake shores.

Accommodation
Patra Parapat Lake Resort
JI. Pertamina Siuhan Danau Toba, Parapat 21 174
Sumatera Utara - INDONESIA
Ph.No : +62 625 41196
Fax :+62 625 41536
Email : [email protected]

Comments
You must
login
to post comments.