The Prambanan temple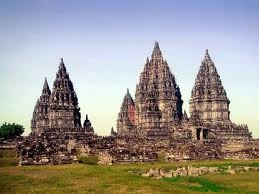 Candi Rara Jonggrang or Candi Prambanan is a nineth century shrine, situated in Indonesia' central Java province. The temple is devoted to the three forms of God called as Trimurthi, known as Brahma (the creator), Vishnu (the sustainer) and Shiva (the Destroyer).

The Prambanan temple is Indonesia's biggest Hindu shrine and is one of the biggest in South East Asia region. The temple is depicted by sharp and tall structure, characteristic of Hindu temple structural design and by lofty middle structure of 47 m height, within a big compound of separate temples. The temple's architecture adheres to the traditions of distinctive Hindu architecture and it depends on Vasthu Shatra.

Inside the Prambanan temple complex, apart from the three temples dedicated to the Trimurthis, you can find other temples like the 3 vahana temples devoted to the God's vahana like Garuda, Nandi and Hamsa.

Other temples you can visit are the two Apit temples, four Kelir temples, four Palok temples situated in the interior zone's four corners.

You can find the Prambanan temple as a beautiful and traditional temple set in scenic environs. The temple is serene, pleasant and, is a perfect place to unwind yourself.

Address
Prambanan Temples,
Yogyakarta, Indonesia.
Accommodation at near Prambanan temple
Poeri Devata Resort Hotel
Klurak Taman Martani Kalasan Sleman 55571, Indonesia
(0)815 791 3327

Comments
You must
login
to post comments.