Istiqlal Mosque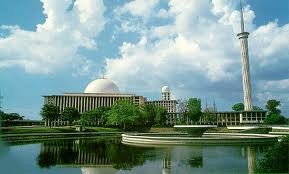 The Istiqlal Mosque is the biggest mosque in south eastern part of Asia. The mosque built in the year 1975, is capable of accommodating a total of 120,000 individuals. The Istiqlal Mosque is known for its marvelous architecture. It is built in such a way, that even on a sultry day; you will feel cool inside the mosque. The uniqueness of the mosque is the architect Mr. Frederich Silaban, who built it is a Christian. The mosque stands as a symbol of Unity in Diversity for Indonesia.

You can enter the mosque by means of seven gates. Every gate is named after the Islamic God names, Al-Asmaul-Husna. The number seven denotes the Islamic cosmology's seven heavens. On the ground floor you will find the ablution (wudu) fountains.

You will welcomed by a main prayer hall, which is rectangle in shape and enclosed by a globular middle dome 45 meters in diameter. The number 45 denotes the 1975 year of proclamation of Indonesian Independence.

The central dome is decorated with attractive pinnacle made up of stainless steel, in the form of a star and crescent.

Opening hours
The mosque is opened 24 hours.
Address
Jalan Katedral, Central Jakarta; North East of Mer
+62 21 314 2067(Tourist Information)

Comments
You must
login
to post comments.