Qatar Profile and History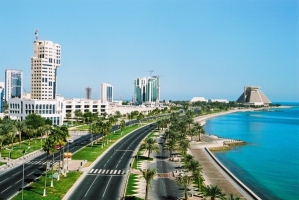 Qatar is a small country in the Persian (Arabian) Gulf. It borders on Saudi Arabia and United Arab Emirates by land and Bahrain by Sea. Doha is the capital city of Qatar. Qatar gained independence from British rule on September 3, 1971. Qatar has been ruled by the Al-Thani family and is currently ruled by the Emir, HH Sheikh Hamad Bin Khalifa Al-Thani.
The traditional Qatar economy was built around pearling and the town of Zubara in the north was the main centre for pearl diving. With the advent of the cultured pearl, the pearl industry collapsed in the 1930s.
Although oil was discovered in Qatar in the late 1930s, it was not until a decade later that production began in earnest.
Qatar is small, flat, dry and hot, with little or no arable land.. It is 160 Km long and 55 to 80 Km wide with a total area of 11,437 sq km. Summertime temperatures are usually in the high 30s to low 40s (Celsius), although temperatures into the high 40s are often recorded. Winter (if it can be called that) temperatures are mild and rarely go into the single digits.
The people of Qatar are primarily of Arab descent, reflecting the country's close proximity to the Arabian peninsula and its ties of history, language and religion with the other Gulf states. Arab tribes who migrated to the area in the 18th century form the basis of the population. Most of the present inhabitants of Qatar live in the capital, Doha, but there are a fair number living in the towns and villages of Wakrah, Dukhan, Umm Said, Al-Khor and Madinat Shamal. Only 25% of the population of Qatar is Qatari. The remainder is foreign, overwhelmingly Pakistani. Most Qataris are of Arab ancestry, though there are a number of families of Persian origin.
Capital City:
Doha
Official Language:
Arabic is the official language in Qatar, and English is widely spoken.
Religion:
Islam is the official religion of the country, and the Shariah (Islamic Law) is the principal source of legislation in the country.
Climate:
Qatar has a moderate desert climate with long hot summers and short mild winters and little rain in winter.
Major Towns:
Doha, Al Wakrah, Al Khor, Dukhan, Al Shamal, Mesaieed, Ras Lafan and others.
Currency:
The official currency is the Qatari Riyal (QR), which is divided into 100 dirhams. The Exchange parity has been set at the fixed rate of US $ = 3.65QR's.