House of mirrors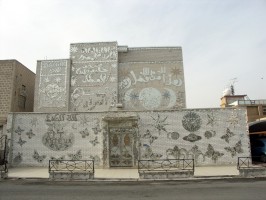 Several individuals who live in Kuwait are not absolutely conscious of the hall of mirrors or house of mirrors. But this is actually an incredible affluence of art so available to the community at large and is worth visiting. The house of mirrors is owned by Lidia Al-Qattan & Khalifa and is now regarded as a museum of the well known Kuwaiti artist's wife who has transformed this house into a piece of art making use of broken glass pieces to embellish the house's exterior as well as interiors. For weekday visits prior appointments should be made. It is amazing to know that nearly white cement of 100 tonnes and broken glass pieces of about 75 tons are utilized in creating this mirror mosaic which sparkle this residential house' exterior as well as interiors.
Some significant aspects
This white brick structure welcomes you with an astonishing collection of mirrors, portraying butterflies, planets, stars, palms and also calligraphy. Inside the house, you will find the walls, floorboards, and also all the furniture adorned with mirrors in probable shapes and colours. You will find that each room is designed with a specific theme; the corridor comes with double themes – corridor of nations and shark hall. The passageway with shimmering light will entice you with shark and other global wonders. Your tour will conclude with the impressive designs found in the Sea World Hall, Knowledge Hall and the Universe Hall. Other notable features you can admire are paintings from Quran, nucleus of the galaxy with stars, planets and satellites created on the walls as well as on the ceilings.
Fees
KD2 for each individual on weekdays KD3 for each individual on weekends
Contact Details
Address: House 17, Street 94, Block 9, Qadisiya, Kuwait Telephone: +965 2251 8522
Related News
Comments
You must
login
to post comments.