Al Shaab Sea Club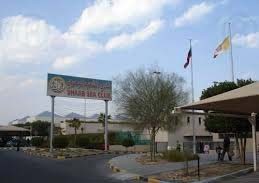 The Al Shaab Sea Club is a renowned entertainment spot where you can alleviate your tired muscles. It is situated in Al-Shaab Al-Bahri, Hawally district This club was formed in 1978 is spread on an area of about 73,500 m².
Some of the pleasure activities you can take part in
You can chill down by swimming in the big open air swimming pool as well as in the enclosed winter swimming pool which is managed by specialized trainers & lifeguards. Take a stroll in the sandy shore, playing beach volleyball, basket ball, tennis, etc. You can also have the facility of learning some martial arts like karate or indulge in other fun activities. Dine at some of sumptuous cafes & restaurants that sell mouth watering sea foods, and delicious food stuffs. Your little ones can also get entertained by playing on the swings found in the garden. There are also promotional programs, amusement amenities You also have the convenience of going on long boat rides. On the whole, the Al Shaab Sea Club serves as an excellent resort for the local as well as international visitors.
Address
Al-Shaab Al-Bahri,Hawally district call: 25641953
Related News
Comments
You must
login
to post comments.