Cedar point amusement park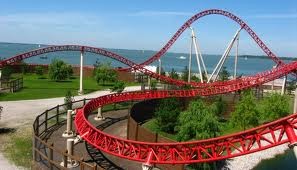 The cedar amusement park is a well-known amusement park in U.S.A. It is an entertainment park spread on 364 acres (1.47 sq.km) and is situated in Sandusky, Ohio.
The amusement park poses nearly 17 roller coasters, (it boasts of having the credit of having the largest numbers of rides.). Ten roller coasters are made up of steel.
Some of the Roller coasters are the,
Blue Streak:
It is a coaster classic in the park. It has been in customer service form the year 1964, and is the oldest service roller coster. The wood coaster has an aspect of "out and back layout".
Cedar Creek Mine Ride
This is a conventional "runaway mine train" coaster which takes the visitors up two lift hills and has an incredible helix at the tail end.
Cork screw
This is another prominent ride and finds a place in history. It is indeed the primary ride to have three inversions. It also the initial ride to span a equidistant
Some of the names of the other roller coasters are,
Iron Dragon
Gemini
Jr. Gemini
Maverick
Mantis
Magnum XL-200
Disaster Transport
Raptor
Wicked Twister
Mean Streak
Millennium Force
Top Thrill Dragster
Woodstock Express
Woodstock Express
Wildcat

Thrill rides
The park has thrill rides that rocks the visitors, rotate and turns them upside down .Some of the names of the thrill rides are Cedar Downs Racing Derby, Calypso, maxair, Matterhorn, Ocean Motion, and Scrambler.

Kid rides
Some of the kid rides are Bumper Boats, Frog Hopper, Krazy Kars, Helicopters, Motorcycles, etc.

Contact address
1 Cedar Point Dr.
Sandusky, OH 44870, United States
(419) 627-2350

Comments
You must
login
to post comments.