Futuroscope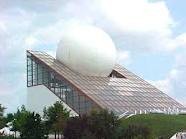 The Futuroscope is an amusement park that is designed on the basis of cinematographic futuroscope, multimedia, and audio-visual methods. The theme parks boast of having 3D as well as 4D cinemas.
Futuroscope is situated at a 10 km distance to Poitiers' north, in the Vienne division.
Some of the popular 4D and 3Dcinems are,
Monstres des Mers (Sea Monsters)
Arthur, l'aventure 4D (the 4D adventure called the Arthur)
Les Astromouches (the Fly me to the Moon 3D)
Le Meilleur du Dynamique (The Best of Dynamic Cinema)
Les Ailes du Courage (Wings of Courage)
Chocs Cosmiques (Cosmic Collisions)
La Vienne Dynamique (The Dynamic Vienne)
Voyageurs du Ciel et de la Mer (Air and Sea Travellers) Only in French language.
Le Monde des Enfants (The kid's World)
Les Animaux du Futur (The future is untamed)
Cyber Avenue
Admission fees
For Adults it is 35€
For the elderly people the fee is 32€
For kids, the fee is 25€ (No admission fees for kids under the age of 5)
How to get there
The park is situated in the area of Poitou-Charentes to the Poitier's north and it is can be reached easily by road, air or rail.
Address
Avenue du Téléport 86360 Chasseneuil-du-Poitou, France
05 49 49 37 37

Related News
Comments
You must
login
to post comments.