Le Puy du Fou Theme park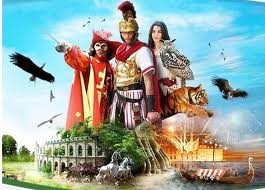 Le Puy du Fou Theme park is a renowned attraction in Les Epesses (amid La Roche-sur-Yon and Cholet) in the hub of Vendee area, in the western part of France. The theme park witness an inflow of 1.5 million guests. annually. You can go on board on voyage through time to admire the historical performances. Navigate downriver on the Viking longboat to attack a hamlet, enjoy the magnificent nights show and other miscellaneous activities in the 50 hectare unpolluted green surroundings.
The amusement park is segregated into diverse distinct regions housing a number of attractions.
The secret of Lance
You will find the attraction set amid the ramparts of a Middle age fortress. It narrates you the tale of a young shepherdess, who, from the clutches of the English knights have to single handedly safeguard her donjon with assistance of lance empowered with supernatural influences.

The Vikings
The Vikings is located in a renovated 1000 year old fortress assaulted by a Viking Longship. The tale commences with a wedding in the hamlet, just prior to the advent of a Viking Longboat. The special effects comprise of a holy man walking on the water and the surfacing of a Longboat from undersea.

The Phantom Birds Dance
You will find this popular show is based on a mystery tale. Birds of prey in dozens rush forward from the wreckages and flies down over the guests' head. The falconers put some falcons on the head of few guests sporting hats. A lot of the bigger birds are freed from a far overhead floating balloon. This concludes with about hundred birds at once flying about the spectators.

Gladiators
You will be recreated in a Gaul environment and will be transported to the Roman era. Youl will come across customary parade of animals and people, chariot racing, gladiatorial battle, all set during the turbulent Diocletian times.

Some of the other wellknwon attractions, which you can enjoy are the Richelieu's Musketeers, Les Orgues de feu, Le Chemin de la Mémoire,Les Automates Musiciens du Bourg 1900, La legend de Martinet.

Address
Le Puy du Fou Theme park
Les Herbiers, 85 590 Les Epesses, France
Puy du Fou, 30 rue Georges Clemenceau, BP 25, 85590 Les Epesses, France
Phone No: + 33 (0)8 20 09 10 10, 33 2 51 64 11 11
mail id: [email protected]

Accommodation near Le Puy du Fou Theme park
Résidence du Bocage
D11 route des Herbiers, 85590 Les Épesses
Ph.No: 02.51.57.65.82
Fax: 02.51.57.66.15
e-mail:[email protected]

Related News
Comments
You must
login
to post comments.