Vulcania Theme Park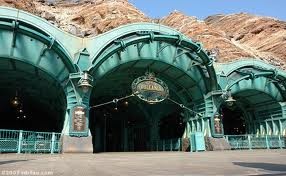 Vulcania, an amusement park with Volcano theme is located in the Saint-Ours-les-Roches in the administrative area of Auvergne in France.The former French president Valéry Giscard d'Estaing was instrumental in developing this "European Park of Volcanism".

You will find the park in the midst of the hilly areas of Auvergne, beneath the dead volcano craters' Chaine des Puys range. You can with kids and family members undertake tour and watch films narrating the tale of volcanoes.

Some of the attraction you can find in this theme park

Cité des enfants
This entertainment area is especially dedicated to the kids in age groups of three to seven years. Your little ones can hone their skills with unbelievable energy with water mills, gears in all the four committed play regions. They can manipulate things, construct objects, feel and visualize all things that move on.

Mission Toba
You can travel with your family on a futuristic life, which will transport you on an astonishing trip through time to one of the super volcanoes. You will be transported to the Toba region, an area in Indonesia, where a stunning explosion occurred about 74,000 years ago. You and your family member can experience this incredible flight in the safe and secure confines of an enclosed auditorium equipped with a 180 degree monitor and projectors in the ground that strengthens the sensation of being absorbed in the volcano. During your Toba trip you are sure to realize the destructive powers of the supervalcanoes.

Some of the other attractions you can enjoy at Vulcania are Machine earth, Magma explorer, the volcano bull, the crater, the Geyser, etc.

Opening hours
The theme park is opened from 10am to 11pm.

Admission fees
Admission is free for kids below three years.
The admission tickets for adults is 21 euros
For kids in the age group of 6 to 16 years of age, the admission ticket is 15 Euros.

How to reach Vulcania
You can take rental cars from the Clermont-Ferrand SNCF station, and have a 25 km journey to Vulcania
Clermont-Ferrand/Auvergne Airport is situated just 30 km from Vulcania
There is daily flight services available on the Clermont-Ferrand route, with a stopover at Vulcania


Address
Vulcania Theme Park
St-Ours-Les-Roches, 63230, Clermont-Ferrand,
France
Tel: 0820 827 828 (0,12€/mn)
Fax: 04 73 19 70 99

Accommodation near Vulcania Theme Park

Ethic Etapes Clair Matin
Place de l'Eglise, 63230 Saint-Ours
04 73 60 21 41

Related News
Comments
You must
login
to post comments.