Yankari Game Reserve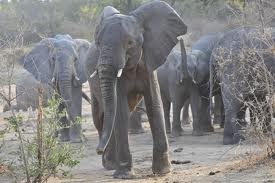 The Yankari Game Reserve is a big wildlife park situated in Bauchi state's south central area. The national park is spread on a region approximately 870 sq.miles (2,244 sq km). It houses various natural warm springs, and is also rich in flora and fauna.

The foremost park is opened to pubic all over the year. In the savannah environs, you can find dense population of baboons, elephants, bushbucks, waterbucks, crocodile, oribi, roan antelope, hippopotamus, buffalo and several kinds of monkeys. You can also spot Lions, but only occasionally. It requires a great deal of patience to have a glimpse of the "king of the forest".

It is advisable to tour the park between the months of November and May. During this period thick vegetation gets dried up, and all the animal flock around the water bodies, in large numbers. You can easily spot all animals in the river banks, all under one umbrella.

One of the most vital features of the park is the Wikki Warm Springs. During the night, the whole areas around the springs are floodlit. Hence, after a hectic day schedule, you can relax in this wonderful area with warm water. You will find springs gushing out beneath a cliff, the water there is about 6 feet deep, and has a bathing area, which stretches up to a area of 600 ft. You will be in the company of the other guests like the Kingfishers, golliath heron, huge saddle bill stork, , bee-eaters, bateleur eagle, vultures and more. If you are an avid bird watcher, then the Yankari Game Reserve is your cup of tea.

Address
Yankari Game Reserve
43km Bauchi-Gombe Ro, 59km Dindima - Yankari via
Bauchi State, Nigeria
Phone: +234 80 34205409

Related News
Comments
You must
login
to post comments.