The Smithsonian National Air and Space Museum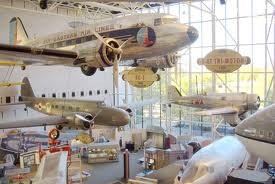 The Smithsonian National Air and Space Museum or simply the National Air and Space Museum is a well-known tourist destination in the capital. It boasts of having the credit of housing the biggest significant aircraft and spacecraft collections, displayed on a floor area of 161,145 square feet. The museum was set up in the year 1976.

The museum also functions as a research centre exploring into the aviation's history and science. The museum has 22 galleries, and showcases a number of artifacts, which also encompasses the unique 1903 Wright Flyer, the Apollo 11 command component and the "Spirit of St. Louis".

There are a number of interactive displays here and your kids can have a great time here.

At a cost of $6.50 for each ride, you can have the privilege to ride in any of the various 4minute duration stimulator rides. At the Lockheed Martin IMAX Theater, you can embark on a journey all the way through space or to the artificial or natural wonders of the universe.

At the Albert Einstein Planetarium, with the Sky vision, the double high tech digital projection system, you can take a 20 minute trip all over the world. For the planetarium and IMAX movies you have to $8 for each adults and $6.50 for your each kid. At (877) WDC-IMAX., you can also purchase your tickets in advance

Address
Independence Ave. at 7th St. SW
Washington, DC 20560
(202) 357-2700

Related News
Comments
You must
login
to post comments.