Yellowstone National park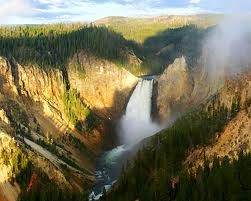 The Yellowstone National park is a very popular destination mainly situated in the Wyoming state in the United States. A few portions of the park extend into the adjoining states of Idaho and Montano. The Yellowstone is broadly regarded as the primary national park on the globe. The park is home to a broadrange of wildlife species, a number of geysers, etc.

The parks is spread on an area of 8,983 square kilometers (3,468.4 sq. miles) comprising of lakes, rivers, canyons, and mountain ranges. The Yellowstone National park is one of the most wonderful creations of Mother Nature. You can come across the world famous grizzly bears, bisons, elks, and wolves. Some of the spectacular sights in the park are the Gardner river canyon, Grand Canyon of yellow stone, boiling river, etc. Some of the activities you can involve are Hiking, boating, ranger guided tours, etc.

You can also take a tour on the paved paths that gives admission to the main geothermal regions as well as to a few lakes, and waterfalls. Some of the other inhabitants you can come across are black bear, buffalo (bison), moose, elk, white tailed deer, mule deer, pronghorn, mountain goat, mountain lion, and bighorn sheep.
You can also have a glimpse of one the famous geysers of the park, Old faithful.

Old faithful
It is a cone geyser situated in Wyoming. You can find the eruptions shelling 3,700 to 8,400 gallons fourteen thousand to thirty-two thousand liters) of steaming water up to a height of hundred and six feet to one hundred and eighty five feet that lasts from one and half minutes to five minutes. You will notice the eruption's standard height is forty four meters (145 feet).

Some of the other renowned geysers you can visit are the Lion geysers, Castle geysers, and Beehive geyser, etc.

Address
Yellowstone National park
200 Wyoming,
UnitedStates
(307) 344-7381

Accommodation near yellow stone park

Stage Coach Inn
209 Madison Avenue, P.O. Box 169, West Yellowstone, MT 59758
email: [email protected]
Ph.No: 406-646-7381, Fax: 406-646-9575
For toll free reservations 800-842-2882

Related News
Comments
You must
login
to post comments.