National Zoo, Washington DC.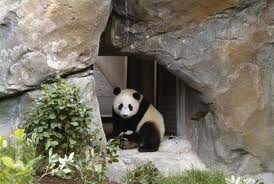 The National zoo in Washington is one of the most popular tourist destinations in the Capital of United States of America. The zoo is spread on an area of 163 acres. The zoo forms a portion of the Smithsonian Institution, and is also called as the Smithsonian National Zoological Park. The zoo boasts of having more than 400 varieties of animal. Except for the parking charges, the admission to the zoo is free.
Some of the habitats in the zoo:

Giant Panda Habitat
You can have a glimpse of the beautiful pandas in this habitat. The China Wildlife Conservation Association has lent two giant panda named Tian Tian, and Mei Xiang on a ten year loan period.

Asia trail
You will be greeted by animals from Asia like the Fishing Cats, Sloth Bears, Clouded Leopards, Red Pandas, Asian Small-clawed Otters, and of course the giant pandas.

Elephant trail
You will encounter three elephants named Shanthi, Ambika and Kandula in this exhibit.

The Great Ape house
The Western Lowland Gorillas and the Orangutans are the inhabitants in this area. Likewise you can also see tiny primates like monkeys that includes the Geoffrey's marmosets, Golden Lion Tamarins, and howler monkeys.

Amazonia
This exhibit depicts the typical environs of the Amazon River basin. Here you will be welcomed by animals like sting rays, giant arapaima, red-tailed catfish pacu, and underwater swimming piranhas, sun bitterns, titi monkeys, two-toed sloths, and dart-poison frogs.

Lion/Tiger hill
This exhibit is occupied by the African Lions, big cats like the Sumerian tigers.

Opening hours
Except on 25th of December, the Zoo is opened in all days of the year.

Normally y the zoo is opened the enclosures are opened from 6 am to 6 pm and the buildings are opened from 10 am to 6 pm.
Admission is free
The rates for parking
For the first hour the parking rate is $10
$15 for 2 to 3 hours.
For more than three hours the parking fee is $20.

Address
National Zoo
3001 Connecticut Ave NW
Washington, District of Columbia
(202) 633-4800

Accommodation near national zoo
Washington Marriott Wardman Park - Washington
38.92572, -77.05427
2660 Woodley Road NW,
Washington, DC, 20008 United States
1800 102 3346

Related News
Comments
You must
login
to post comments.