Tarangire National Park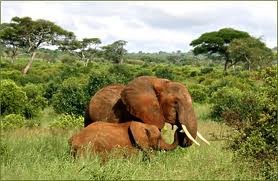 The Tarangire National Park is the sixth biggest park in Tanzania. The park derives its name from the Tarangire River, which traverses through it. During the dry season, the Tarangire River is the only water body. The Tarangire National Park is spread on area of 2,850 square kilometers.

It is easy to spot wild animals, if you visit the park during the dry season. You can find herd of wild elephants scratch the dry beds of Tarangire in search for underground streams. At the dwindling lagoons, you can also spot the zebra, impala, buffalo, hartebeest, and elands swarming in large numbers.

All around the year, the swamps are home to nearly 550 species of birds. On barren ground you can have a tete-a tete with the sturdy thighed Ostrich, the biggest bird on earth, or exchange pleasantries with KoriBustard, the heaviest airborne bird.
Some of the other common residents you are bound to stumble upon are the lovebirds with yellow collar or the drabber weaver with rufous tail, the Olive baboons, giraffes, etc.

From the branches of the tree, you will receive greetings from the leopards, the tree climbing lions and pythons.

How to get there
It is only a short drive from the city of Arusha. You can also take charter flights from Serengeti or Arusha.
Accommodation
Sufficient accommodations are available inside the park. The National park boasts of having a tented lodge, two lodges, another six exclusive cabins, and 2 comfort tented camps.

Address
Tarangire National Park
Babati Tanzania
(0)27 2503471

Related News
Comments
You must
login
to post comments.