Pergamon Museum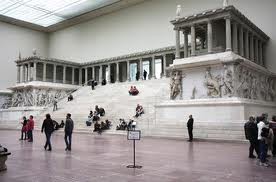 [The Pergamon Museum (Pergamonmuseum in German) is located in Berin's Museum Island. It is a prominent tourist attraction in the German capital. The renowned museum has the renovated monumental structure like the Market Gate of Miletus, Pergamon Altar. The museum is segregated into the Middle East museum, antiquity collection, and the museum of Islamic art. Pergamon witnesses annually, an inflow of approximately 1,135,000 visitors.
Some of the notate exhibits you can witness in the museum.

Pergamon Altar
It is a monumental building constructed during King Eumenes II's reign in the early half of the second century BC, as one of patios of the antique metropolis of Pergamon's acropolis in Asia Minor. You will find the building measuring 35.64 meters in width and 33.4 meters in depth. The front stairway itself measures about 20 meters in width. You can notice the pedestal adorned with a high relief wall paintings depicting the fight involving the Olympian gods and the Giants. There is also another small wall painting in the walls of the innercourt, which encloses the real fire altar in the higher level of the building on top of the steps.

Market Gate of Miletus
The Market Gate of Miletus dates approximately to 120 AD. It measure about 29 meters in width and 17 meters in height. You can see the well maintaiend components of the gate that were unearthed by the renowned archeologist Theodor Wiegand kept on display.

Some of the other main displays are the Mshatta facade, Ishtar Gate, etc.

You can also take a look at the extensive collection that belongs to the Brandenburg's Electors period, and relics unearthed in Samos, Olympia, Miletus, Pergamon, Magnesia, Priene, Didyma and Cyprus.

Opening hours
Except on Thursday, the museum is opened on all days from 10am to 6pm. On Thursdays it is opened from 10am to 9pm.

Admission fees
For adults the entry ticket is 18 Euros.
For kids in the age group of 6 t0 12 years, it is 5.50 Euros.

Address
Pergamon Museum
Museumsinsel, Am Kupfergraben, 10178 Berlin, Germany
49 0 30-2090 5577

Accomodation near Pergamon Museum
Hotel Adlon Kempinski
Unter Den Linden 77, Berlin, BE 10117 Germany
030 2261-0

Related News
Comments
You must
login
to post comments.