Olympia mall, Salmiya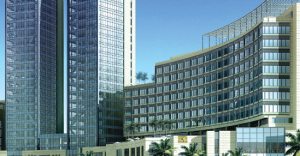 The Olympia mall is a popular shopping mall that is strategically situated on the Arabian Gulf Street and it overlooks the Arabian Gulf.
The retail mall is situated on 4 storeys encompassing an area of around 12.500sqm. If offers a wide mixture of global fashion, accessories, beverages and food outlets. Leading brands has opened their outlets in this renowned mall. You can find a broad range of stores where you can shop with your wife and kids.
Kids' fashion stores
Some of the renowned outlets where you can colourful dresses for your little ones are Baby cocoons, tutto piccolo, Cocoon Junior, etc.
Women fashion stores
A few of the women fashion stores where you can purchase trendy dresses for your fiancée or spouse are Qualito, Bebe, CCDK, Lollipops paris, Gerry Weber, Floor La Vie en Rose, Bimba & Lola, Pronovias, etc
Men's fashonwear
You can also visit the Kevingston where you can find a wide range of men's fashonwear
General stores
Other general stores where you can shop are Chrisitan Audigier, abercrombie & fitch, Benetton, Sisely, US Polo, My May Boutique, compione, etc
Cafes & Restaurants
After an exciting tiring shopping spree you can chill out by tasting you favourite snacks and foods at the delicious cafes, bakeries and restaurants like Caribou Coffee, U Grill, Divas, Rotana Cafe, Cafe Verghano, etc
Shopping hours
11 am to 12pm
Address
Olympia Mall
Arabian Gulf Street
Salmiya
Comments
You must
login
to post comments.