Al Bairaq Mall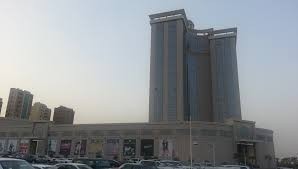 Al Bairaq Mall is one of the latest and most popular shopping mall in Kuawait. The mall contains 4 commercial storeys with ample and huge gateways and offers you a sense of greeting, comfort and the immense joy of shopping. The shopping mall provides all the requirements needed for a contemporary family unit. The renowned shopping mall has a striking environment and its contemporary structural design replicate high criterion
Women fashion outlets
You can find numerous fashion, retail outlets where you can procure your items without any hassles. Some of the well-known women fashion stores which you can come across are Roch Noir,Oxgen,Aqua ,Triumph Fashion,La Frutta Fashion, Goelia Fashion, New Look, , Marie France, Anotah Fashion, Shakook Fashion, Mango, Motherhood, Godee Fashion, etc
Kids fashion stores
Likewise you can also find trendy collections for your little one at the leading kids' outlet like Spring Days, Moied Almair.., H & M, Original Marines, etc.
General fashion outllets
Some of the leading general fashion stores include Derby Jeans, Bazar, GO Sport, Haya Wen Fashion, New Derby Fashion, Roge Lingerie, Kayra Fashion,e tc.
Other stores
You can also come across a good number of Gift shops, health & beauty outlets, speciality boutiques, jewellery, watches, optics and a host of delicious food serving cafes and restaurants. On the whole the Al Bairaq Mall provides a unique and enjoyable shopping experience
Address
Al Bairaq Mall fintas Kuwait City Phone +965 503 33225
Comments
You must
login
to post comments.