Dar Al Awadi Complex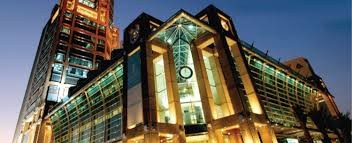 The Dar Al Awadi Tower is the 5th lofty structure in Kuwait. It contains 35 storeys and stands at a height of about 171 meters. This tower is situated in the hub of Kuwait City where you can observe and admire the Persian Gulf's high panoramic view. This tall structure houses renowned stores, offices, etc. It has ample parking space and is capable of accommodating 650 cars at a time. Some of the fashion outlets which you visit in this mall for purchasing the trendy dresses are Python, Black & white, Medusa tree, Redloff, etc. You can add fragrance to your life by shopping for your preferred scent at the Alfasa perfume store. The Chocola & coffee super market provides you the required groceries. Some of the other renowned outlets you can visit are Amar phones to procure your latest trendy gadgets or enhance you beauty at the well known Saloon & Spas like Blodry Bar, One eleven Nails pa, Herbal Spa, etc. After a hectic shopping spree, you can pamper yourself by tasting the delectable dishes at the renowned restaurants & cafes such as Absolute Chocolate, Starbucks Coffee, Salah Al Aeadi, Karak Golam, Sandwich Shop, Azumami, Backerei wolf, Munch, etc.
Address
Dar Al Awadi Complex Ahmad Al Jaber Street, Kuwait City, Kuwait Tel: 00965-22322244 Fax: 00965- 22475168 Email: info@daralawadi.com
Comments
You must
login
to post comments.