Nutgrove Shopping Centre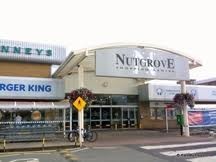 The Nutgrove Shopping Centre is a renowned shopping mall in the Rathfarnham area of Dublin. The shopping center boasts of having more the 70 stores.It also has a free spacious parking lot and an airy food court.

You can find a variety of stores dealing with Kid's fashion, grocery, men's fashion, computer & Electronic, women's' fashions, shoe apparels, Jewelry & watches, beauty & Spa, etc.

Some of the leading stores found in the mall
3 store: This is a leading mobile and Smartphone stores. You can variety of trendy smartphoes from leading brands like Samsung, iphone, Nokia, HTC, Sony Ericsson, etc. It also deals with SIMs, broadband modems & Routers.

Claire's Accessories:The leading Jewelry store offers you a wide rand of Jewel collections. You can decorate your spouse with vintage cameo necklaces. You can also surprise your wife by purchasing stylish black chains & jumbo size rings. You can also purchase other items like well known cosmetics, novelty stuffs and funky room decorations.

Dunnes stores:This well-known retail store chain deals with household, food stuffs, etc. Kids, Men and women's fashion, you can find a variety of trendy clothes for your spouse and little ones. The store also deals with grocery, footwear, electrical & entertainment.

Some of the wellknown stores you can find in the mall are Art & Hobby Shop
Book Station, AXA Insurance , Burger King, Car phone Warehouse, # DR Acupuncture , Elle , Hatton Goldsmiths, Fun Max, Holland & Barrett, Clarks Shoe Shop, Doc Morris, Card Gallery, Fragola, etc.

Opening hours
The mall is opened on Mon, Tue, Sat from 9am to 6pm. On Thur and Fri it is opened it is opened from 9am to 9pm. On Wednesday it is opened from 9am to 7pm.On Sunday and on bank holydays it is opened from 12pm to 6 pm.

Address
Nutgrove Shopping Centre
Nutgrove Avenue
Rathfarnham
Dublin 14
Tel:00353 (01) 493 3289, Facsimile:00353 (01) 493 3290


Related News
Comments
You must
login
to post comments.