International Indian Public School, Riyadh (IIPSR)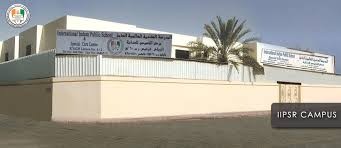 International Indian Public School, Riyadh also called as IIPSR is a renowned academic institution in Riyadh. This school has attained a convergence of the archetypal and the advent grade. It honours convention still rigidly think to prepare students for further progressive programme of study. IIPS does not simply teach education, it also strive its best to infuse the moral values which moulds the kids as excellent citizens.
Curriculum
The Curriculum adopted in this educational institution is student centric and oriented with activities with the educational fortification making use of audio-video assistance and the play way procedures. The institution adopts the CBSE syllabus for the succeeding subjects • English (First Language and instruction medium) • Hindi (2nd Language: from UKG to VIII grade) • Arabic, Hindi, Malayalam, Urdu, French, (2nd Language: Grade IX & X) • Tamil, Malayalam, Telugu French, Marathi, Kannada, Urdu, and Arabic (3rd Language: Grades III – VIII) • Science (VI grade to X grade) • Mathematics • Science stream (Grade XI & XII) • EVS (Nursery to Grade V) • Health & Physical Education (from Nursery to Grade XII) • Social Science (Grade VI to Grade X) • Computer Science (LKG to Grade XII) • Mandatory Arabic, Saudi History & Culture • Islamic Studies / Moral Science (Grade I to Grade VIII) • Art (Nursery to Grade X) & Craft (Nursery to Grade II) • General Knowledge (Grade I to Grade V)
Amenities
The International Indian Public School is well equipped with all educational amenities such as good transportation, gymnasium, computer lab, science lab, library, etc.
Contact details
International Indian Public School - RIYADH & Special Care Centre Sulaimaniyah, P O Box 13740 Riyadh 11414, Kingdom of Saudi Arabia Phone: 011-4647061, 011-2792316 email id:
[email protected]
Related News
Comments
You must
login
to post comments.