Floating Mosque Jeddah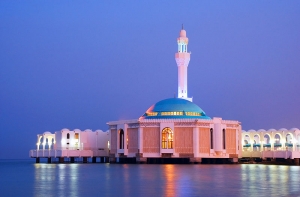 Floating Mosque in Jeddah is one of the most loved and visited sightseeing spots in the city of Jeddah. Jeddah is a classic mix of ancient with modern which is finely evident in its majestic architectures and buildings. The location of Jeddah on the coast of the Red Sea and the beaches subsequently formed makes it a favored travel destination of the tourists.Floating Mosque in Jeddah is one of the sacred sites in the city.
The mosque is placed just next to the Red Sea which gives the impression that the mosque is floating in water. It is henceforth named the Floating Mosque. Due to the shimmering white color of the mosque it is also referred as the White Mosque. The mosque is located close to the center of Jeddah.
The interior of the mosque is beautifully decorated. The mosque has all the modern facilities like the latest technology based sound systems. For the winter season the mosque also has the provision of hot shower. The Floating Mosque at Jeddah is a landmark of the city and is frequented by numerous tourists round the year from across the world. Floating Mosque in Jeddah bears testimony of the religion of Islam in Saudi Arabia. It is one of the marvelous sacred destinations in Jeddah.
The architectural beauty with the huge decorated prayer space and the elegant rooftop gives a unique semblance to the mosque. A soothing ambiance is created inside the mosque. The serene ambiance in the interior of the mosque helps in meditating during the prayer. Not only the Muslims but people from all religions across the globe make it a point to visit the Floating Mosque in Jeddah at least once during their stay at the city.
Related News
Comments

Md Khaleel Ahmed
- Sep 02
This is not floating mosque, it is a concrete structure erected on solid ground

sageer aizaz
- Jun 08
how to go there from makkah or how far and where is this from corniche in jeddah


You must
login
to post comments.