Durban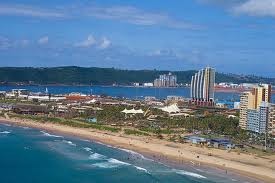 Durban is a town that is located in the Kwazulu-Natal province on South Africa's eastern coast. Since the city has the advantage of getting the warm around the year as it situated on the Natal Bay, thereby making it a much preferred tourist spot among the visitors to South Africa.
Some of its salient aspects are
Beaches
The golden mile of Durban is a sequence of beaches where tourists can watch and admire the sharks. The tourists are protected from the sharks by nets and lifeguard patrolling. There is also safe region for the simmer and body surf at this major surfing areas.
The Promenade
All along the waterfront of Durban, the promenade extends and it houses various pubs, hotels, restaurants, shops and the world renowned uShaka Marine World aquarium.
The Victorian Indian Street Market
This is a busy area having a predominant Indian population. Lots of temples and mosques are found in this area. A number of delicious food restaurants and shops are located in this street.
Umgeni River Bird Park:
This is a famous bird sanctuary which houses more than 3000 striking and native species of birds. The place has four waterfalls endangered species of living organism, lush green vegetation making it a very beautiful place to visit.
Accomodation
Protea Hotel Edward Durban
Cnr. Arthur's Rd & Main Road, Sea Point
Sea Point
Western Cape
South Africa
8060
Tel No: +27 21 430 5000
Fax: +27 21 430 5320

Related News
Comments
You must
login
to post comments.