Viikinsaari Island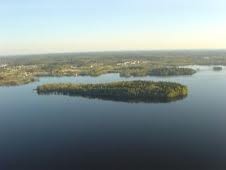 Viikinsaari is an isle situated in Pyhäjärvi Lake in Tempere city, Finland. The place is a well-known entertainament area and scenic resort, luring a number of visitors from all parts of the globe. During summer, from Laukontori harbour, there is boat service to the island. During winter the island can be accessed by skiing or walking.

There is a natural reserve on the western portion of the island. You can find playgrounds, a tiny chapel, swimming shores, and a café, a hearth for sausage frying, a dance exhibition area, and a footpath traversing through natural reserve. The Tampere Culture Affairs operates the island. You can try any of the entertainment activities. From the information office, you can hire fishing rods, rowing boats, tiny golf gears and other game equipments, like petanque, badminton, croquet, darts, volleyball, football, and board games.

With the trees, beautiful lush green lawns, beach, the place offer an ambient setting for picnic.

Address
Viikinsaari Island
Tampere 33210, Finland
Sokos Hotel Tammer
Accomodation near Viikinsaari Island
Satakunnankatu 13, SF-33100 Tampere,Finland
Tel. +358 20 1234 632
Fax +358 3 5697 6266
[email protected]

Related News
Comments
You must
login
to post comments.