Fortress of Suomenlinna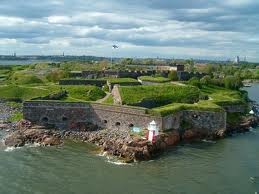 The Fortress of Suomenlinna is a maritime citadel and an Archipelago Fleet base. It is located on a cluster of isles off Helsinki. It was constructed in the Swedish era, in the middle part of the eighteenth century. At present the fortress is declared as a UNESCO World Heritage Site and is one of the most popular attractions in Helsinki.

The fortress has an abundance of activities stored in for you. It has everything, cannons, walls, a submarine, tunnels, restaurants, cafés, museums, and also a brewery!.

You will find the fifteen minutes ferry ride to cross the fortress as the most interesting part of your tour. You can have a glimpse of few western facing attractive and striking cannon at the Kustaanmiekka Island.

At the southern most portion of the Suomenlinna, you can take a look into the peculiar system of passageways, tunnels, and tiny room constructed into the earth, meant for the armed forces to supervise the gun emplacements. It gives real excitement to stroll through the canals and gaze into the pitch black spaces, and trying to visualize how it would be to work and live there.

The museum at Suomenlinna narrates you the story of the fortress' history and its military customs.
Suomenlinna Museum: You can find rare artifacts such as rare ammunition, weapons, tools explored in Suomenlinna attics and excavations.

Ehrensvärd Museum: Here you can find a wide range of portraits, weapons, tiny ships, Gustavian furnishings and also Elias Martin's oil paintings on Suomenlinna

Take a stroll along the rocky coastline, you will find the shoreline to a bit of Brittany or Cornwell. You ha eth facility of well laid footpaths, hand rails and steps in good condition to make your stroll a safe and secure one.

You will find the entire fortress mystifying and majestic with its ramparts, enormous walls, and massive stones (and brick) construction of one type to the other.

You can also avail helicopter facility to take an aerial trip over the fortress and have a panoramic view of the citadel and its adjoining areas. You can have a bird's eye view of the main pier, Finnish Naval Academy, open prison, service pier, King's Gate, Submarine Vesikko, dry dock, church, Kustaanmiekka walls and sandbanks, etc.

Opening hours
The fortress is opened from 10am to 6pm

Address
Fortress of Suomenlinna
Suomenlinna Island, Helsinki, Finland
+358 (0)9 684 1880

Accommodation at Fortress of Suomenlinna
Hostel Suomenlinna
Suomenlinna C 9, Helsinki 00190, Finland
E-mail: hostel (at) snk.fi,
Tel. +358 (0)9 684 7471

Related News
Comments
You must
login
to post comments.