Underwater world, Sentosa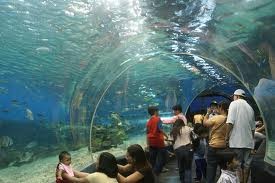 Underwater world also called as the Underwater World Singapore Pvt Ltd, is an Oceanarium situated offshore of the Sentosa island, Singapore. The amusement center was inaugurated in the year 1991, and houses 2500 marine animals belonging to200 varieties brought from the various parts of the globe. The ticket for underwater world also include a visit it to the Dolphin Lagoon, located at Palawan Beach.

The Underwater world has a 272 ft ( 83 meters)long moving sidewalk,that moves you along a immersed 0.24in(6 mm) thick acrylic window tunnel, which moves you through a marine life display comprising stingrays, coral reefs, turtles, , moray eels, sharks and others.

Some of the Adventures in the park

Marine Discovery
If you are captivated by the documentaries, you watch on television, then here is a chance to make your dream into reality. At Marine Discovery. you can explore at first hand, as how diverse the sea life coexist. Wade up, pace in, and intermingle with the group of blue spotted stingrays, affable shovenose rays and other beautiful creatures. If you are fortunate, you can also give food to them.

Dive with the sharks
If you are enthusiasm aficionado, then this attraction will provide you the ultimate excitement .Under the assistance of a guide you can get submerged into a action-packed, deep sea denizen world and also come nose to nose contact with the ever watchful sharks. You can observe the enormous eagle ray suspended above you.
Admission fees for dive with the sharks adventure, $120 for an individual
Total duration: Ninety minutes (thirty minutes of wet time)
Some of the other adventures at underwater world are Dive with Dugong, swim with the Dolphins, Dive with the shark& Dugong


Address
Underwater World Singapore
80 Siloso Road
Sentosa
Singapore 098969
Phone: +65-6275-0030
Fax: +65-6275-0036

Related News
Comments
You must
login
to post comments.