Robert Mouawad Private Museum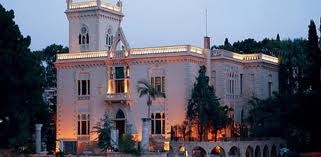 The Robert Mouawad Private Museum is situated in Beirut Central district of Lebanon. It is an appropriate blend of oriental and artistic cultures. You will find the museum an amalgamation of great value entities, by looking at its peculiar assortment of ceramics, books, Pottery, historical columns, sophisticated Jewellery pieces or distinctive carpets, ancient weapons, unusual valuable stones and objects d'art.

Way back in the year 1911, Mr. Henri Pharaon constructed the Arab Palace, adjacent to the "Grand Serail", which was decorated with authentic wooden boards, which dates to in between 14th to 19th centuries. Mr.Roebert Mouawad, a well known personality bought this chronological art residence to house his traditional pieces and fine arts.

You will find rich collections of Turkish and Syrian art objects put on display. Some of the artifacts, you can admire are the large Chinese porcelains, Islamic pottery, Greek Roman steel, books, carpets, tiles, and the jewellery set belonging to Robert Mouawad.

You can also see Excelsior, the second biggest diamond in the universe put on exhibit, and also a costly gift set covered with 9000 ornaments.
Address

Robert Mouawad Private Museum
Army road - zokak el blat, Beirut, Lebanon
+961 1 98 09 70

Related News
Comments
You must
login
to post comments.