Stuart Landsborough's Puzzling World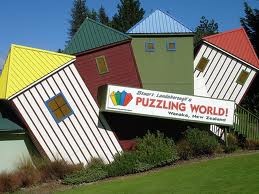 Stuart Landsborough's Puzzling World is a globe peculiar attraction, focusing on puzzling weirdness. For more than three and half decades the amusement center has thrilled guests belonging to all ages.

The center is situated in the spectacular Southern Lake area of NewZealand's Southern Island. It is located in the midst of rolling lawns of seven acres, gardens, trees, etc.

It is situate at Wanaka's entry at a distance of two kilometers from the lakefront.

At the Puzzling World, you can fine the world's premier "3-D" Great Maze, a puzzle hub/ snack bar, unbelievable illusion rooms, peculiar architecture, huge gift shop, and the fascinating Psychic challenge.

Some of the attraction you can find
Leaning &Tumbling towers
Once you enter the Puzzling World, you can see this strange structure. You can find 4 odd tumbling towers in one building, while another one is known as the Leaning tower of Wanaka. You will find the leaning tower hauled off the ground and at one bend, it is balanced at an incredible fifty three degrees.

Labyrinth (The Great Maze)
It is the world premier latest designed mazes. You will find the maze is intended to be a pleasant and enthralling enigma. The Labyrinth is a passageway of 1.5km and permits the contestant from thirty minutes to one hour to accomplish. There are also provisions of emergency door for people with limited time, energy or patience. You will the find the attraction very fascinating, and apt for all ages.

Some of the other attractions, you can find are the Ames room, hall of following faces, Hologram hall, etc.

Opening hours
The Puzzling World is opened from 8.30am.On Christmas it is opened from 10am to 3 pm, on winter the last admission is 5pm, while on summer it is 5.30pm.

Address
Stuart Landsborough's Puzzling World
188 Wanaka Luggate Hwy 84 Wanaka 9382
Ph. No: 03 443 7489, Fax: 03 443 7486
Post: PO Box 95 Wanaka New Zealand
Email: [email protected]

Related News
Comments
You must
login
to post comments.