Skyline skyrides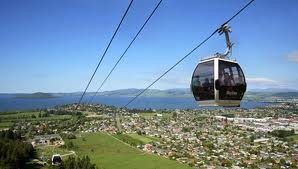 The Skyline skyrides is a must see tourist attraction in NewZealand. At skyline, you can admire from a complete diverse perspective, the splendor of the magnificent scenery. The amusement center has two branches at Queenstown and Rotorua. You can ride the Gondolas with your family on top of Rotorua and Queenstown, for a spectacular sight above the countryside and lakes .You can have a taste of snack or drink in one of the cafes or tickle your taste buds with lip smacking buffet in the yummy restaurants.

If you are a fun freak, then the skyline ride is your cup of tea. You can find the place with amusement packed, gravity – stimulated ride appropriate for all capabilities and ages.

Gondola ride
Considered to be the steepest lift in the whole of the southern hemisphere, the gondola carries you high on top of Queens town to the Skyline compound situated on Bob's peak.

From the center of Queenstown, it takes only a five minutes stroll to reach the Gondola.

Several observation decks are present around the complex .from where you can have awesome views of The Remarkbales, Coronet peak, Lake Wakatipu and Waller peaks, etc.

Operationg hours
From 9.00 am till late evening.

Address
Skyline Queenstown
Brecon St, PO Box 17
Queenstown
New Zealand
Phone: 64 3 441 0101
Fax: 64 3 442 6391
Email: [email protected]

Skyline Rotorua
Fairy Springs Road, PO Box 2353
Rotorua
New Zealand
Phone: 64 7 347 0027
Fax: 64 7 348 2163
Email: [email protected]

Related News
Comments
You must
login
to post comments.