Happy Valley Adventures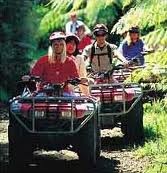 Happy Valley Adventures is a well known adventure park situated in the city of Nelson. The park has a variety of attractions for all visitors irrespective of the age and gender.

Some of the attractions the park
Quad bike adventure- Four wheeling fun
You can travel on a four wheel bike and traverse the farmland hooked on to the serene magnificence of local forest spread on an area of thousand acres. The only thing required is you must have complete 16 years in age. However you can travel as a commuter along with a guide or on the back of the quakbike driven by your friend.

Farm forest ride
This is a smaller ride, intended to suit to all capabilities. You can travel along the native forest tracks and catch a glimpse of the Matai trees. You can also ride along the sheep rides, and alongside the river bank.

Sky wire
This is an innovative adventure created by the park management. In this exploration, Just like a bird, you will fly at a height of 150 meters above the local forest and up to a distance of 3 km. Don't get panic!, you will be fixed firmly and safely into anyone of the four Sky wire chairs' racing car seats. Upto a duration of nearly ten minutes of exciting adventure, you will be taken back and forth.

Opening hours
Except on Christmas day, the adventure park is opened all days of the year, from Sun - Sat 9:00am - 5:00pm
Contact
Happy Valley Adventures
194 Cable Bay Road
Nelson, New Zealand
Ph. +64 3 545 0304
Fax. +64 3 545 0347

Related News
Comments
You must
login
to post comments.