National Museum Riyadh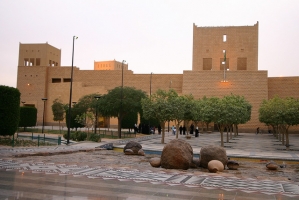 The National Museum of Riyadh is a landmark structure in the skyline of Saudi Arabia. Established as an ode to the country's educational and cultural development, the National Museum gives an insight into the history of Saudi Arabia.
Located in the beautiful city of Riyadh, one of the most popular tourist destinations in Saudi Arabia, the National Museum is spread over 17,000 meters of land close to the King Abdul Aziz Historic Center.
Inside the National Museum, Riyadh, you can find a captivating display of Saudi Arabia's culture in its past and present forms. There are different types of antiques, manuscripts, documents and display boards that showcase an erstwhile era.
There are as many as eight exhibition halls in the National Museum at Riyadh, Saudi Arabia. These halls cover the following themes - Man and Universe, The Arabian Kingdoms, The Pre-Islamic Era, Prophet Mohammad's Mission, Islam and the Arab Peninsula, The First and Second Saudi State, The Unification of the Kingdom, The Hajj and Two Holy Mosques.
National Museum timing for visitors
Weekdays
Morning
(9AM-12PM)
Evening
(4:30-9:30PM)
Saturday
schools/boys
closes for
(maintenance)
Sunday
schools/girls
families
Monday
schools/boys
families
Tuesday
schools/girls
men
Wednesday
schools/boys
families
Thursday
schools/boys
families
Friday
close
families
Opening hours of the National Museum during the month of Ramadan
Sunday to Thursday: 11:00 am until 3:00 pm, 1st period, 09:30 pm until 1:00 am, 2nd period.
Fridays: 09:30 pm to 1:00 am, 2nd period only
Saturdays: 11:00 am to 3:00 pm, 1st period
Entrance Fee
- SR 10 for an adult
- Free for children
- Free for students
Related News
Comments

You must
login
to post comments.