Little India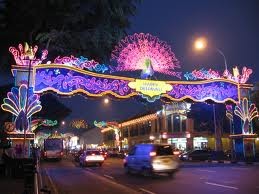 Little India is a cultural neighborhood of Singapore displaying the Tamil cultural rudiments and features of other civilizations. It is situated in the eastern direction of the Singapore River transversely from the china town. The place is frequently visited by tourists coming to Singapore. It stands as a symbol of unity as it housed a number of temples, churches and mosques.

Some of the renowned tourist spots in Little India.
Masjid Abdul Gaffoor mosque
Masjid Abdul Gaffoor also called as the Abdul Gaffoor Mosque is another popular palace of worship. It is situated at Dunlop Street, coming under the Little India's Rochor Planning area. The mosque was built in 1907 and it underwent a major refurbishment in 2003. Presently the MUIS (Majlis Ugama Islam Singapura) owns the mosque. The masjid is built in affluent architectural style. You will find the prayer hall hoisted beyond the ground, facing in the direction of Mecca. The hall is enclosed by verandahs at the threshold and at the sides.
You can also visit other places of worship like the Jalan Mosque, Sri Vadapathira Kaliamman Temple, and Central Sikh Gurdwara. Little India, apart from being a tourist spot is also a commercial hub bustling with activity. You can find a number of malls, plazas at the Serangoon Road.
Kampong Kapor Methodist Church
Kampong Kapor Methodist Church was established in the year 1894. It is a family oriented church and it boasts of having thousand members. Every Sunday, the church conducts six worship servoces, including three morning services in English. Services are also conducted in other languages like Tamil, Mandarin, Peranakan, etc.
Sri Veeramakaliamman Temple
Sri Veeramakaliamman Temple is a Hindu temple situated in the hub of Little India in the southern portions of Singapore. The temple is dedicated to Kali; the Goddess of empowerment (Shakti) .Kali is also Lord Shiva's wife and the mother of Lord Ganesh and Murugan. The temple was constructed in the year 1881 you can find the chief deity Kali wearing a garland made up of human skull and splitting the intestines of her prey. You can also find images of Kali sharing serene moments with her sons.
A peculiar feature you can find is though Kali is popular deity in Bengal; the temple is constructed in South Indian temple style instead of the North Indian pattern.
Address
Little India
Serangoon Road, Singapore, Singapore

Accommodation near Little India
Perak Hotel
12 Perak Road , Singapore, 208133 Singapore
Ph.No: 65-62997733

Related News
Comments
You must
login
to post comments.