Magic Valley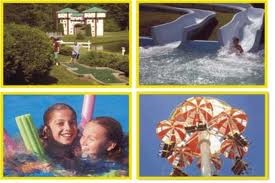 The magic valley is a popular entertainment and amusement park situated on the Trans Canada Highway Exit 20 at a distance of 6 miles (9.5kilometers) to the west of New Glasgow.

The park has a wide range of rides and attraction for your kids and family members.

Children's waterslide
This immense thrill is meant only for your little ones .To rid this waterslide your kids should be in between of 30" to 48" of height. Bracelet is needed to utilize the pool and waterslide.

Magic valley railroad
You can travel in a traditional train as it moves on a specially constructed railroad passing through the forests. Individual are below 42" of height should be accompanied by an adult.

Bunny Hop
This is a bouncing up and down, going around, around ride. An individual should be 54" to ride this ride.

Story book village
The Story book village is a kid sized earth, where the fairytales come into existence. One can visit the shoe, where the old lady had a number of kids and did not know what to do. You can sit on wall and meet Humpty Dumpty, before he had a huge fall.

Story book village is also a forested land where you can relax with your family members. It is set amid the beautiful pine and spruce trees. Here the nature is improved in such a way; it brings back the sweet memories of childhood.

Some of the other attractions in the park are Old MacDonald's farm, Little Tykes Mini Cars, Mini Scrambler, etc.

Opening hours
The park is opened every day from 11am to 6pm
Admission fees
The general admission fees is $8.00
For Bracelet it is $17.95, this includes all attractions and rides, except for Go-karts
For a four member family, the admission fees is $67.95 (for every extra family member, it costs $14.95).

Address
Magic Valley
4488 Highway 4
Greenhill, Nova Scotia B0K 2A0
Tel: (902) 396-4467
Fax: (902) 695-3100
info@magicvalley.ca

Related News
Comments
You must
login
to post comments.