La Ronde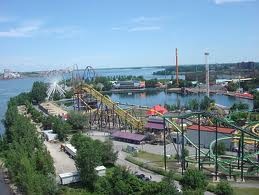 La Ronde is the biggest amusement park in city of Quebec and ranks as the second largest in the whole of Canada country. Initially the park was constructed for the 1967 Expo. It is situated on eh island of Saint Helen on Parc Jean Drapeau. The yearly fireworks competition is conducted in this park which is visited by a number of visitors as well as local people on each summer. The Monster is the most famous ride at La ronde theme park. It is a wooden roller coaster and it raises an unknown fear as this arrangement of this beast clatters on eh initial climb.

The Boomerang is another exciting ride in the park. It also has the biggest suspended roller coaster in eh country called the Tornado. The tornado is the only one of the nine coaster present in the park , which provide the visitor to reach a height of 32m(105ft)and attain a 80.5kmph(50mph).
Ever since from the year of 2002, La Ronde was considered a world class theme park officially, and boasts of 40 rides for the visitors to select from. During the summer, the water rides are a perfect option for sultry and sticky climate. A visitor can try the 20 passenger boat called as the, Splash , which thrusts downwards a 15m(50ft) water fall forming 5m(17ft) waves. For this ride staying dry is not a choice. There is also another ride; a custom intended Old Montreal theme ride called the Tour de Ville. It takes on a carousel ride nearly 48 courageous souls, to the skies.

Address

Île Sainte-Hélène
22 Chemin Macdonald, Montreal, QC H3C 6A3, Canada
(514) 397-2000

Accomoation near La ronde
Quality Hotel Dorval Aéroport,
7700 Cote de Liesse, Montreal, QC, CA, H4T 1E7
Phone: (514) 731-7821
Fax: (514) 731-7267

Related News
Comments
You must
login
to post comments.