Waves Aqua Park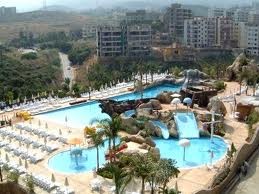 The Waves Aqua Park is located at Mar Roukoz, on the top of the hills covered with pine forests. The Park overlooks the Mediterranean Sea. The park gives a panoramic view for a visitor, highlighted with a 180 degree sight.
The park is one of the largest amusement parks in Leboanoan. It offers a lot of attractions for the kids, as well as for both men and women.
Some of the attractions in the park
Wave pool
You will find the wave pool, an imitation of a sandy beach with palm trees encircling it. Te wave pool is one of the biggest swimming pools in the whole of Middle East. It is spread on a 2700 sqm area. The pool is fully outfitted with the sophosticaed mechanism and offers seven different types of wave model rising up to a height of 3 meters.

Lazy River
The Lazy River is an artificial stream starching up to 300meters. The river is 6 meter wide and traverse through the resort, offering the tourist, a soothing and revitalizing tube ride travelling thorough a cavernous gorge, beneath water falls, and surges to come back to a broad lagoon, and forming an islet, which is connected by two viaduct to the main area.

Kids' pool
The kids' pool is another popular attraction exclusively meant for your little ones. It consists of a tiny pool with innovative arrangements in the middle. The pool has two tin kids' glides, toy animals spraying water, to amuse your little ones.

Island Pool
If you want a serene and soothing environ, the Island pool is your cup of tea. Only visitors above 18 years are allowed in this area. The place also has a private bar, which offers you a wide range of cocktails, sandwiches, salads, and snacks.

Address
Waves Aqua Park & Resorts
Mar Roukoz – El Metn
P.O.Box 108 Mansourieh ,Lebanon
Ph.No: +961 3 727571/9
Fax: +961 4 533444 – Cell Fax: +961 3 735974

Related News
Comments
You must
login
to post comments.