Kegon Falls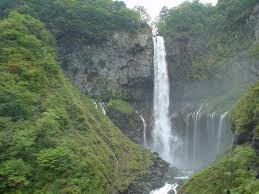 Kegon Falls is situated at Lake Chūzenji (Oshiri River).The falls were created when the flow of lava redirected the Daiya River. You can also find 12 tiny waterfalls on the sides and backside of the Kegon falls. These little waterfalls split among the mountains and lava streams.

The Kegon falls flows from a height of 97 meters and is regarded as Japan's third highest waterfall. You will find the Kegon Falls, an awesome place, if you happen to visit in autumn. On some certain days, you can also find the open-air food markets in nearby hamlets selling local produce.

You will also have the facility of two tier deck ,which is laidout for the conveinience of visitors. From the deck ,you can also enjoy seedin the nearby valley. You can also find a elevater, which will take you to the waterfalls' base.

Address
Kegon Falls
Mt Nantai Area, Nikko National Park, Nikko,
Tochigi Prefecture 321-1661, Japan
+81 288-55-0030

Accommodation near Kegon Falls
Kinugawa Onsen Ryokan, Nikko, Japan
545 Kinugawa Onsen Taki, Nikko, Tochigi Prefecture 321-2526, Japan
Ph.No: 072-756-6242

Related News
Comments
You must
login
to post comments.