Castles and Coasters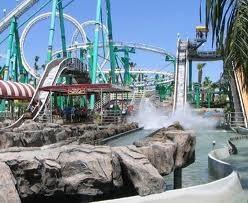 The Castles and Coasters is one of the most exciting family amusement parks in the state of Arizona. The theme park offers a lot of fulfilled activities ranging from exciting sky towering roller coasters to exhilarating sky divers, old fashioned carrousels. You will find the theme park a great place to de-stress, chill out and have a memorable time with your family members.

Some of the attractions you can enjoy at Castles and Coasters
Arcade

You well find the arcade a very specious one with 11,000 square feet of abundant space , spanning over 3 stages .Here you will find more the 200 games, comprising of a Guitar Hero, Giant Crane, the best ticket games, dancing games, newest driving games, 27 pinball machines, hottest prize games,etc.

You can also play the biggest collection of classic games, which includes the Ms. Pacman, ,Pacman, Galaga, Donkey Kong, Tetris, , and much more.

Bumper boats
You don the role as the caption of your boat; you are at your liberty to testify your skills on boating. You can splash, bump, dodge, the approaching boats at the thrilling bumper boat lagoon.
Height requirement: You should be at a minimum of 44 inches in height. Infants are not permitted to travel in Bumper boats.

Carousel

This attraction has sixty handcrafted circus animal and horses. You will be transported into a fanciful planet of magnificence and traditional fun.
Height requirement: The Riders should be a minimum of 42 inches in height.

Some of the other attractions you can enjoy in the park are miniature golf, go karts, magic carpets, sky wire, patriot, sea dragon, etc.

Opening hours
Park is opened at 10.00 am, however the closing time differs, you can call 602-997-7575.and confirm the timings.
Admission fees
If you want to have a pass with unlimited Ride, you can purchase the bronze pass priced at $25.00.
For $30.00 you can purchase the silver pass which has an unlimited ride pass, to together you will having 1 Round 18-Hole Miniature Golf. Getting a silver pass helps you to save $3.00 in your wallet.
If you want to have the best deal, you can opt for the Gold pass for $35.00.With this pass you will be getting an unlimited ride in addition to that a one round 18-Hole Miniature Golf and a $10 arcade card.
Contact Address
Castles N' Coasters
9445 Metro Parkway East
Phoenix, AZ 85051
602-997-7575

Comments
You must
login
to post comments.