Adventure land theme park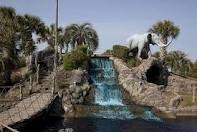 The Adventureland theme park is a popular amusement park situated in the state of Alabama in the US. You can find a number of attractions in this park. Your little ones can involve themselves in a plethora of entertainment activities.

Some of the main attractions in the park.

Go-karts
This popular attraction is sure to enthrall your kids. Your little one can sit in the Go-karts, start the engine, and drive on the track, traversing through, a soaring, dual underneath/twofold overbridge. In the glittering Indy fashioned Karts constructed for children, the little ones can bend, go round, lofty curves, and get endless entertainment.

Bumper boats
In the theme park's bumper boat last lagoon, one can get wet toast with their friends. You can glide over the flowing waterfall, whilst endeavoring to get away from the watery squirt of an enormous volcano in this pond.

Arcade
The mad wave motion theater is another well-known attraction. You can rest back on the rumble chair with your friend, grip the lower bars, grasp on your precious life and travel on any one of the 3 exhilarating roller coaster or chase a formula one car at the great speeds on the Indianapolis Speedway. You can venture into a world of fantasy, where you can ski down a snow-white hill slope, drive the NASCAR route, pace your motorbike throughout the LasVegas' streets, or you can spurt it out with the Wild West desperadoes in the sophisticated simulation and video arcade of Adventureland.

Some of the other popular attractions are batting cages, Miniature golf, etc.

Opening hours
The theme park is opened throughout the year as well as on all holidays.
On Jan, Feb, the park is opened from 10am to 8pm.
On March to September, it is opened from 10am to 9:30pm.
From Oct to Dec, the park is opened from 10am to 8pm.

Admission fees
The best deal costs $17.00 for an individual. This includes a one Go-kart ride, one game of golf, fifteen arcade tokens, and one bumper boat ride.
For Jungle mini golf, for eighteen holes (1 course), it costs $7.00.
A Family ticket which includes eight games costs $48.00.
Military personnel with their present Military identification card can avail discounts.

Address
Adventure land theme park
3738 West Main Street
(Hwy. 84 West)
Dothan, Alabama 36305
Phone 334-793-9100

Comments
You must
login
to post comments.