The Desoto Caverns Family fun park, Childersburg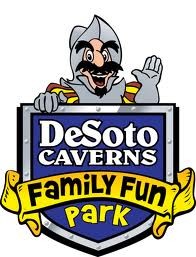 The Desoto Caverns Park is a well-known family amusement park that is situated at Childersburg in the state of Alabama. The park boasts of having more than twenty five wacky attractions, encompassing Gemstones Panning, the ever famous Wacky Water Golf and three-quarter acre Lost Trail Maze.

Gemstone panning
Just like the ancient prospector used to do, into the water trough just immerse your pan and discover what you may get. You can discover rubies, pyrite onyx, and other stone which are semiprecious. You are assured to discover something.
DeSoto's Lost Trail Maze.

This maze is an archetypal attraction, spread on an area of 3.4 acre and you will find it as a very interesting one, it is a very excellent fun activity, suitable for all your family members irrespective of the age. While travelling through the maze, you will be coming across three towers, all you need to do is at each tower you have to get a stamp and discover the way out. You need to evaluate your time with your fellow participants.

Tubs of fun
You can sit on individual tub and revolve around, the whole attraction rotates, you will feel somewhat giddy, but there is tons of enjoyment stored in it.
Happy's moon walk
This is a great attraction for your kids Your little ones can walk on a moon walk, which is inflatable The walk will make the little one to spring up and down, which they are sure to enjoy.
Some of the fun activities are the DeSoto's Park Express Train, Cannon wars, Wacky water wolf, Spin and tilt, etc.

Opening hours
Mon to Sat from 10.00 am up to 4.30pm.
On Sun from 1.00 pm to 4.30 pm
Address
Desoto Caverns Family Fun Park
5181 DeSoto Caverns Pkwy
Childersburg, AL 35044
1-800-933-2283
Fax: 256-378-3678
Email: [email protected]

Comments
You must
login
to post comments.