UAE Profile and History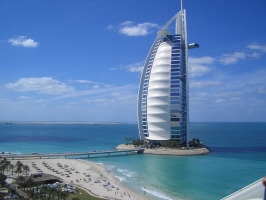 The United Arab Emirates consists of seven independent city-states: Abu Dhabi, Dubai, Sharjah, Umm al-Qaiwain, Fujairah, Ajman and Ra's al-Khaimah. Four-fifths of the UAE is desert but has contrasting landscapes—from the towering red dunes of the Liwa to the rich palm-filled oases of Al Ain, from the precipitous Hajar Mountains to the more fertile stretches of its coastal plains.
Though small in size (similar to the State of Maine), the UAE has become an important player in regional and international affairs.
In 1971, the late President His Highness Sheikh Zayed bin Sultan Al Nahyan unified the small, underdeveloped states into a federation—the only one in the Arab world. With his visionary leadership, oil wealth was used to develop the UAE into one of the world's most open and successful economies.
In 2004, His Highness Sheikh Khalifa bin Zayed Al Nahyan became president and has since continued to strive towards an ambitious vision for the UAE.
History
The UAE's rich history is rooted in trade and tied to Islam, which came to the region in AD 630. Its location between Europe and the Far East attracted merchants from India and China and was prized by Europeans, in particular the Portuguese, the Dutch and the British.
While Europeans sought control of the coasts, inland, the ancestors of the Bedouin made the sandy deserts of Abu Dhabi and Dubai their home. The town of Abu Dhabi became an important center.
In the 19th century, the British signed a series of agreements with the individual emirates that resulted in the area becoming known as "The Trucial States." They agreed not to dispose of any territory except to the United Kingdom and not to enter into relationships with any foreign government other than the United Kingdom without its consent. In return, the British promised to protect the coast from all aggression by sea and to help in case of land attack.
The pearling industry thrived in 19th and early 20th centuries, providing income and employment to the people of the Gulf. Many inhabitants were semi-nomadic, pearling in the summer and tending date gardens in the winter. But the economic depression in the late 1920s and early 1930s, coupled with the Japanese invention of the cultured pearl, irreparably damaged the industry.
Facts
* Full name: United Arab Emirates
* Population: 4.6 million (UN, 2009)
* Capital: Abu Dhabi
* Largest city: Dubai
* Area: 77,700 sq km (30,000 sq miles)
* Major language: Arabic
* Major religion: Islam
* Life expectancy: 77 years (men), 79 years (women) (UN)
* Monetary unit: 1 Dirham = 100 fils
* Main exports: Oil, gas
* GNI per capita: US $23, 770 (World Bank, 2006)
* Internet domain: .ae
* International dialling code: +971