The Indian High School, Dubai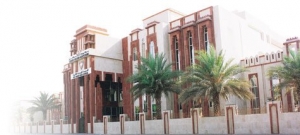 The Indian High School, Dubai, founded in 1961 is a modern English Medium School, run by the Board of Trustees. The aim of the school is to provide a cosmopolitan atmosphere and to train children by providing for them a liberal education.
The school, recognised by the Ministry of Education, Dubai and permanently affiliated to the Central Board of Secondary Education, New Delhi, has adopted the syllabus of the Central School organisation and prepares students for the All India Secondary School Examination (Grade 10) and Senior School Certificate Examination (Grade 12).
The first batch appeared for the All India Secondary School Examination in April 1977 and the first batch of students for the All India Senior School Certificate Examination sent in April 1979. At the +2 stage, the school offers Science, Commerce and Arts streams.
The school functions in two campuses. The Junior School at Al Garhoud accommodates Pre-Primary classes (Girls 1-4). The Main School situated in Zabeel East, has Grades 5 to 12 (Girls) and Grades 5 & 6 (Boys) in the Morning Shift and Grades 7 to 12 (Boys) in the Afternoon Shift. The school has a fleet of 71 air-conditioned buses to transport the students and staff.
Facilities : The School has the Aryabhatta which is the Library & research Centre, three Computer Laboratories, three well-equipped Science Laboratories and a Home Science Laboratory in the Main School. Counselling services are offered to the students by Counsellors at three Counseling Centers. The School has full time Medical Officers and Nurses.
The splendid Sheikh Rashid Auditorium, which was inaugurated on 15th January, 1994 is a state-of-the art auditorium, with a seating capacity of 1800.
The Indian High School is one of the leading institutions in the Gulf and is the first choice of expatriate Indians in Dubai.
Contact
Senior School :
Tel : +9714 3377475
Fax : +97143358851
Junior School :
Tel : +9714 282 3555
Fax : +9714 282 1817
E-MAIL :
[email protected]
Web:
www.ihsdxb.com
Comments

RIAZ AHMED
(Guest)
- Mar 21
NEED A ADMISSIONS I HAVE 5 KIDS PLS REPLY ME SOON 0N THIS NO 0505386614

GIRISH
(Guest)
- Feb 26
Dear Sir/Madam,

Kindly send me the details of admission for my son who requires admission to 5th standard for the academic year 2011-12.

Regards,

Girish. T.C.
You must
login
to post comments.