The Edinburgh Castle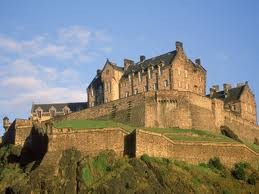 The Edinburgh castle coalesces the history of Scotland and Edinburgh, the castle dominate skyline of the city. The Edinburg castle houses the jewels of the Scottish crown and also functions as a military barracks. A visitor can take a look at the magnificent Great hall that was built in the year 1511. The hall was utilizes as a major venue for the state Assembly of Scotland.You can also take a look at the National war museum situated inside.
Some the other remarkable places inside the castle are the Prisons of War exhibition, that recollects the prisoner's condition of the eightieth century, the sprawling beautiful Royal Palace's rooms, the Royal Scots Dragon Guards' Regimental Museum.
Till now the 1'o'clock gun is fired daily ever since form the year 1861. The ships in Firth of Forth used the gunfire as a time signal.
Books as well as gift shops are present in the castle. The specifically designed jewellery items and other items are exclusively sold by the Crown gift shop. You can also relax at the Redcoat Café, Queen Anne and have a spectacular view of the Edinburgh city.
Contact Address
Edinburgh Castle
Edinburgh
EH1 2NG
Scotland, UK
Visiting hours
On summer season, i.e., from first of April to 31 October
From Monday to Sunday the castle is opened from 9.30am to 6.00pm

On winter season, i.e., from 1st of November to 31st March
From Monday to Sunday opened from 9.30am to 5.00pm
The final entry is 45 minutes prior to closing
On Christmas and New Year Period
The castle remains closed on 25th and 26th December
The castle is opened on 1st of January and 2nd of January, to know about the - opening hours of the castle you can call at 0131 225 9846
Admission fees
£ 12.00 for Adults
£ 6.00 for the kids (aged between 5 to 15 years of age).
£ 10.00 concession fees for the aged persons who are above 60 years of age and for the jobless

The final ticket is sold 45 minutes prior to closing
Kids who are under the age of 16 must be accompanied by an elder.

Accommodation
Apex International Hotel - Edinburgh
31-35 Grassmarket, Edinburgh, EH1 2HS United Kingdom
1800 102 3346



Related News
Comments
You must
login
to post comments.