The Dimond Centre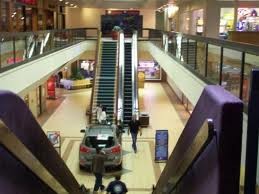 The Dimond Centre is Shopping Mall situated in the Anchorage of Alaska state. In fact it is Alaska's biggest shopping center.
Best Buy and the Old navy are the anchors stores present in the mall. The Diamond center houses 200 stores also include offices and restaurants. It also has the credit of having the Regal Diamond 9 Cinemas, Samson-Diamond Branch Library, athletic club, a bowling alley, which are displayed about an ice skating rink.
Best buy:This Leading American retailer in electronic goods opened has its outlet at the Diamond centre. You can come across a broad range of phones or major brands like AT&T Wireless, Verizon Wireless, T-Mobile and Sprint PCS.
Old navy:This clothing major ahs a chon of stores across. This San Francisco based clothing retailer has opened its store in Diamond centre. The store offers a wide range of clothing varieties to suit your taste.
Some of the other stores found in the Shopping mall:
You will find well-known apparel stores like American Eagle Outfitters, Billabong, Gap, Hot Topic, Aerie, Gap Body, etc.
Stores like Gap kids and Gap baby specializes in Apparels for children.
The diamond centre houses renowned shoe stores like Footlocker, Famous Footwear.
For your beauty needs, you can shop at renowned cosmetic stores and spas such as Bethel, Body Shop, Diamond Center Barber Shop, Helena's Day Spa, Micabella, Diamond Nails, Cali Nails, Body Shop, etc.
After a hectic shopping schedule, you can relax and pamper yourself at the yummy food outlets like Arby's, Amigo Baja Grill, Auntie Annie's Pretzels, etc.
The Business hours for the mall
From Monday to Saturday, the shopping centre is opened from 10am to 9 pm.
On Sundays, it is opened from 11am to 7 pm.
Contact Address
Dimond Center
800 East Dimond Blvd
Anchorage, AK 99515
Ph.no.(907) 929-7108.

Related News
Comments
You must
login
to post comments.