Antelope Valley Mall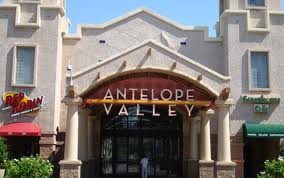 The Antelope Valley Mall is a shopping mall situated in the city of Palmdale in California. The mall is completely enclosed in structure, and houses 4 anchor & 170 stores spread on total floor area of a 93,000 m2 (1,000,000 sq ft).

The anchor stores present at Antelope Valley Mall are Sears, JC Penney, and Forever 21. The other main retail stores housed at the mall are New York & Company, Aéropostale, Hollister Co., Tilly's, American Eagle Outfitters, Lane Bryant, Old Navy, Anchor Blue, Zumiez, Build-a-Bear Workshop, Hot Topic, and lots more.

JC Penney
This Plano (Texas) based midrange department stores has a number of outlets. Their anchor store at the Antelope Valley mall sells a variety of products. You can purchase a variety of products in this mall like Footwear, Clothing, Jewelry, Electronics, Furniture, House wares and Beauty products.
Aeropostale
If you are a hip young woman or man, wishing to purchase your casuals at reasonable price, then Aeropostale is your appropriate and speciality destination. You can shop for merchandise ranging from graphic t shirts to tshirts, dresses and skirts. You can also buy specially designed accessories like boxers, socks, backpacks and caps.
Forever 21
You can also fulfill your trendy fashion needs at very affordable prices.
American Eagle Outfitters
The well known store offers you a fairly priced private labeled casual accessories, clothing and footwear.
Daniels Jewellery
You can shop at this renowned stores and purchase jewels of your choice. You can trade in your old diamond jewelry and get a new diamond jewelry item of your choice.

Opening hours
From Monday to Friday, the mall is opened from 10 am to 9pm.
On Saturdays, it is opened form 10 am to 8 pm.
On Sundays the mall is opened to the public from 11 am to 6 pm.

Address
Antelope Valley Mall
1233 West Rancho Vista Boulevard Palmdale,
CA 93551-3949, United States
(661) 266-9150

Related News
Comments
You must
login
to post comments.